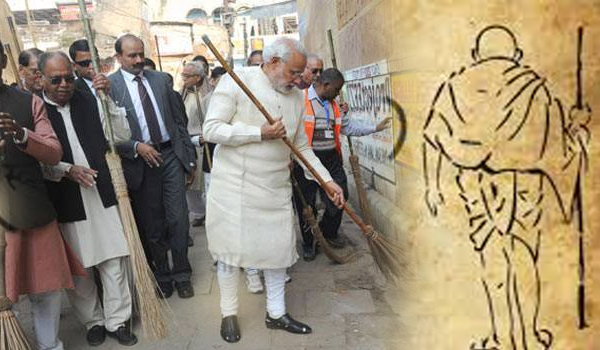 Samikhsya Bureau
Months after taking over power in 2014, it has remained a breathless run by NDA to eulogise Mahatma Gandhi and Sardar Vallabhbhai Patel to the hilt.
And there should not be anything so surprising that, in politics, there are few moments when leaderships choose to secretly regret few past mistakes and recognise the kind spirits of those great personalities who played a great role in nation building.
Making political capital
In an auspicious time when the nation and nations abroad look ahead to celebrate the 'Jayanti' of the Mahatma on October 2, the BJP under Narendra Modi, is in a hot pursuit to make the event more memorable, it would be bad if there is throw-back to bring back recollections of those days when the Bapu was shot at and killed during a prayer.
History has it on record about the people, driven by a certain ideology, to do away with the great man for ever. Even, for years, there had been consistent efforts to refrain from any regrets and, rather, in absolute obedience, in deed and thought of that group, it had pilloried the objectives of Bapu as being starkly in-juxtaposed and divisive towards India's interest.
Even during the stints of rule by the NDA. under Atal Bihari Vajpayee's leadership, hardly there were moments when Sardar Patel was idiolised the way it was done after 2014 and later it was, time and again, shot up to the pulpit through the statue of Unity at last.
Now, the prime minister has already drawn the chart for the October 2 celebration and how to make it go global to spread awareness about Gandhi's ideals on his 150th birth anniversary.
Advantage BJP
What appears crystal clear that the aim behind all that is politics through appropriations of ideals of a man, who had been made to appear redundant for quite long. . The crux is that, NDA makes it as an aim to side line the leadership in Congress which successfully exploited  the suffix of 'Gandhi' for political one-up-man-ship for decades and still wants to reign with that.
On either side of the divide, there is politics. NDA works hard to gather the scattered political ideologies and cap it through the names of the two great leaders and while  the Congress is not in a mood to lose the tag that has already started to wither under its own 'dynasty' arrogance.
19 Views