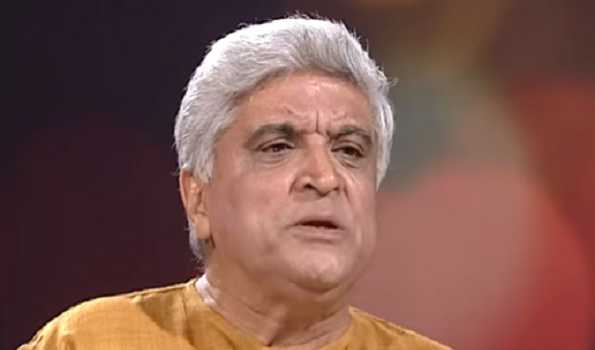 Taking literature to the commoners, a mega festival featuring noted lyricist, poet and writer Javed Akhtar, IPS officer Quaiser Khalid has been organised at the Nehru Centre Auditorium here on August 24.
The international festival is being hosted by the Pasbaan e Adab, a socio-cultural organisation based in Mumbai.
Besides Akhtar and Khalid, others present would be Irshad Kamil, Khan Shamim, Athar Shakeel, Ranjit Singh Chauhan, Shariq Sahai, Madan Mohan Danish, Manish Shukla, Dr. Laxman Sharma, Rafiya Shabnam Abidi, Ijaz Asad, Dr. Zakir , Qamar Siddiqui.
Into its 11th edition, Izhaar, as the series is known is the initiative of Khalid, an officer of the rank of Inspector General of Police. "The programme involves new comers as well as veterans," said Mohammed Danish, secretary, Pasbaan e Adab.
The highlight of this time is not only a enthralling Mushaira, but our ancient and highly acclaimed form of story telling- 'Dastan-Goyi' in which 'Dastan-e-Mahabharata' (Legend of Mahabharata) will be narrated by young story tellers. Along with this, a beautiful gathering of ghazals and Kathak dances will be presented under the title of 'Rasq O Nagma'.
Apart from this, in order to encourage young poets, there is also a forum 'Open Mic' for presenting their original works.
So far, teams of 20 colleges from the capital have registered for this event. The teams would be joined by college faculty and other students. One of its features is that the poems read in Open Mic will be judged by the jury. The best 3 compositions will be awarded by LIC.
"Literature has always been a for exchange of ideas. The changes occurring in the society are brought to the notice of people through languages thereby forming an ideology. Prominent literature plays an important role in incorporation of new ideas into ideology," said Danish.
"Literature through the usage of words presents the truth in such an interesting manner that it fascinates the readers and inspires them to think critically," he said.
"This tradition has been weakening progressively over the past few years as the centrestage of literature has gone into the hands of people who believed in the superiority of presentation, rather than the superiority of the works. Due to which it was difficult for the original litterateurs to get the opportunity to present their books,"he remarked.
"Active since almost a decade, we are committed to the cause of spreading the values of the composite culture of this country through literature, music and art. We preserve languages for sustaining the interest of the new generation in our heritage with the aim of understanding, propagating and enhancing
the common Indian cultural legacy and the brotherhood and harmony built therein,"he added.
Pasban-e-Adab is known for organizing well-attended Mushairas, Kavi Sammelan Seminar – Discussion Sessions and Dastan Goi for the writers at academic institutions of several cities-Mumbai, Navi Mumbai, Pune, Delhi, Lucknow, Raebareli.
30 Views