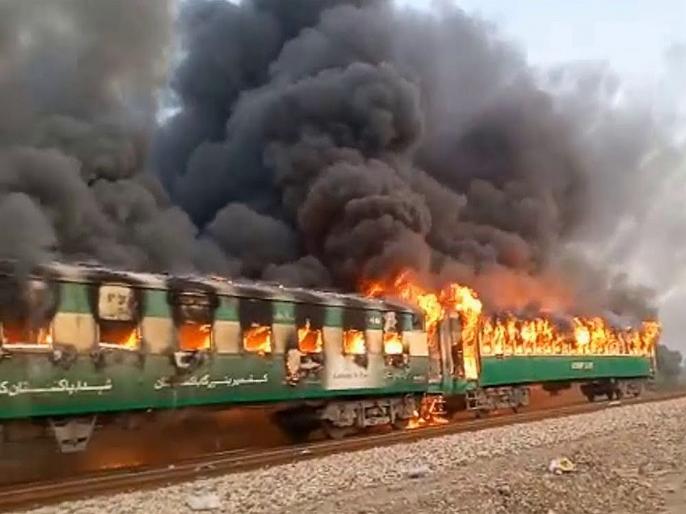 Rahim Yar Khan, Oct 31 (UNI) At least 74 people were killed and dozens injured on Thursday after cooking gas cylinders exploded in a Rawalpindi-bound train at Liaqatpur area, near here, a senior Railways official confirmed. According to Ali Nawaz, some passengers were cooking breakfast in Tezgam train, when two of their gas cylinders exploded. The resultant fire destroyed three of the train's carriages, including two economy class carriages and one business class, killing more than 74 people and injuring several others, Geo TV quoted Mr Nazaw as saying.
The impact of the inferno was such that flames were seen leaping from the carriages from a distance. Some of the victims died after leaping from carriages to escape the blaze, authorities said.Baqir Hussain, head of the district rescue service, confirmed the death toll. He said the bodies would be identified through DNA, as many were charred beyond recognition.DPO of Rahim Yar Khan Ameer Taimoor Khan said the injured were shifted to the District Headquarters Hospital in Liaqatpur and Bahawalpur.
Railway officials said there were more than 200 passengers travelling in the three carriages.At least 77 passengers were on board on one of the carriages, while 78 were in the other economy class carriage. At least 54 passengers were travelling in the business class carriage."A cylinder exploded and I don't know how, fire erupted everywhere. I jumped out of the train to save my life. There was a whole line of people behind me, they pushed," one of the survivors, Muhammad Imran, said at a hospital in Rahim Yar Khan.
Muhammad Nadeem Zia, a medical superintendent at the hospital in Liaquatpur, the nearest town, said some of the victims were killed by head injuries, which they sustained as they leapt from the moving train.Railways Minister Sheikh Rasheed, while speaking to Geo News said, "Two cooking stoves blew up. They were cooking, they had [cooking] oil, which added fuel to fire. Most deaths occurred from people jumping off the train."He added that the train track will be functional in two hours.
Tags:
23 Views