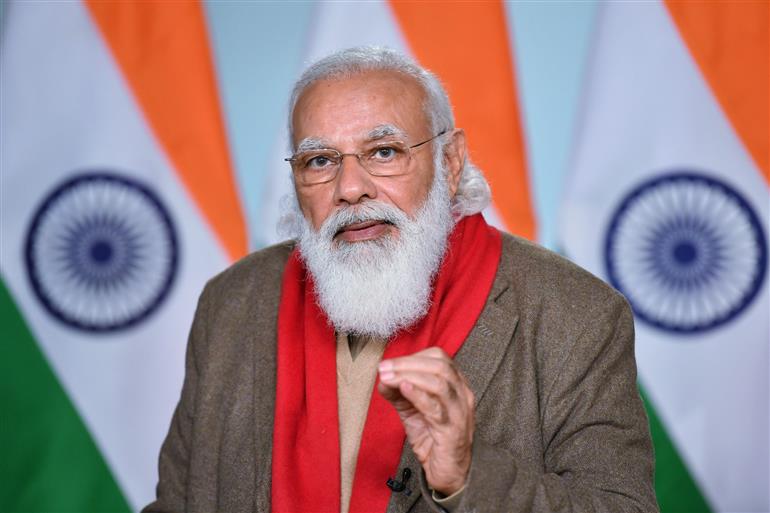 The Samikhsya Bureau
NEW DELHI: Prime Minister Narendra Modi, on Monday, chaired a high level meeting with Chief Ministers and Administrators of all States and Union Territories to review the status and preparedness for COVID-19 vaccination via video conferencing.
He lauded the constant coordination and communication between the Centre and the States, and timely decision making, which has played a big role in the fight against the virus.
As a result, the spread of the virus has been contained vis-a-vis several other countries, he observed.
The PM said that the country is in a decisive phase of this fight, with the start of the world's biggest vaccination campaign from 16th January.
He underlined that it's a matter of pride that both the vaccines for which Emergency Use Authorization has been given are made in India.
He highlighted that both the approved vaccines are highly cost effective in comparison to other vaccines from across the world, adding that India would have faced great difficulty if it would have had to depend on foreign vaccines.
He further noted that India's vast experience with vaccination will prove handy in this endeavour. He said that the priority of vaccination has been decided as per advice of the experts and scientific community after consultation with the States.
Health workers, from both government and private sector, will be the first ones to receive the vaccine.
Along with them, Safai Karmacharis, other Front Line Workers, police and paramilitary, Home Guards, Disaster Management Volunteers and other jawans in Civil Defence, and Revenue Officials associated with containment and surveillance, will also also receive the vaccine in the first stage.
The total number of such personnel is around three crore.
The Prime Minister announced that state governments will not have to bear any cost towards vaccinating these three crore people in the first stage. Centre will bear this cost, he added.
In the second stage, those above 50 years of age, and those below 50 years of age with comorbidities or with high risk of infection, will be vaccinated.
India aims to achieve vaccination for 30 crore people in the next few months, he said.
218 Views