The Samikhsya Bureau
BHUBANESWAR: Odisha's centuries old sand art has inspired Uttarakhand State to host its first ever National Sand Art Festival during the forthcoming Kumbha Mela at Haridwar.
The Mela – that happens once in 12 years on the banks of the Ganga River during March-April since time immemorial – holds maximum significance for the Hindus for its spiritual relevance.
"The event is being organised on the lines of the Odisha Sand Art Festival", announced Deepak Rawat, officer-in-charge of the Kumbha Mela.
The proposed festival will be based on the themes of mythology and the Kumbh Mela, he elaborated.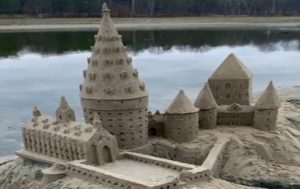 "It will be an added attraction for the pilgrims and the tourists to see renowned sand artists showcasing their sculptures on the sand adjacent to the Ganga river," he added.
This much-awaited festival will provide a platform to the sand sculptors of Uttarakhand and neighbouring states for showcasing their talents, the hosts felt.
Sculptures will be made at one end of Mahamandaleshwar Nagar, so that viewers can see them from the other end of the river maintaining social distancing in view of the prevailing Covid crisis.
The decision of the festival authorities has received race response from large number of people and cultural organisations of Haridwar.
Haridwar is one of the four sites of Kumbh Mela – the others being Prayag (Allahabad), Trimbak (Nashik) and Ujjain.