By DN Singh
For a while it appeared that the Bharatiya Janata Party (BJP) has suddenly discovered, how, through political exigency, a loyal devotee can be made out of an officer who had  till recently not much regard for the political executives. Projecting Aparajita Sarangi as a star campaigner or even a face for Odisha BJP electorally may be an inconsequential piece of topic but it is not easy to guess how on earth she could remould herself to adapt with the virtues of politicians once she had a disdain for.
The gala reception and garlanding accorded to the former IAS officer by BJP state chief Basant Panda and the few cheerleaders from the wings cannot be trivialized as a spontaneous reaction from the local cadres. Obviously, there must have been a diktat from the top to fall in line and orchestrate the chorus as wished by Delhi.
Down the memory lane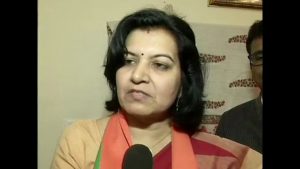 Her indifference towards the politicians was explicit from the early days of her tenure as a collector in Koraput when she had crossed swords with Tara Prasad Bahinipati of the Congress on few issues which had almost spilled out into the open.
When she was the secretary of school and mass education not only her dress-code notification for schools received a grudging acceptance from teachers, but her spat with the then school and mass education minister Pratap Jena was in public domain. Her stint as the Bhubaneswar Municipality commissioner although had few silver lines but she was consistently at loggerheads with the then mayor, Mihir Mohnaty, almost sidelining the importance of the latter.
But today she has suddenly in the midst of the same specie and pitched for politics as the best means to serve the mass. What would have been the larger importance is the construction of her political profile by some BJP leaders and not to lack behind were a few TV channels working as publicists proclaiming her to be a 'bahu' (daughter-in-law) of Odisha, and so minutely, even  reminding us all about how she was in 'odhani'(veil) at an event. Series of such nibble-camera-preening by the channels can well be construed as an assigned task given to them for the image makeover by a calculated political project. A perfect soap opera filled with amazingly crude surprises.
Unconfirmed sources in Delhi would have us believe that Sarangi while applying for the voluntary retirement scheme had mentioned there in her application that she was to take up an assignment with the UN. Fine, if that did not happen, it was her personal choice.
Will it be a Dharmendra vs Aparajita war of guts
Ever since BJP redefined its political narratives in Odisha, the party has somehow confronted an image problem when many analysts spread a notion that Dharmendra Pradhan is not battle ready to dare the political height Naveen enjoys, hence, Sarangi might have been chosen for a surprise appearance in Odisha's political firmament.
However, that notion got demolished once it was made clear by Jual Oram that Pradhan is the face to steer the saffron brigade into 2019 as the chief ministerial face.
So, to say that the new entrant Sarangi, who was given to enjoy an image hype is certainly not in tune with the sentiments of many local leaders here. Mainly the ones who have worked hard down the years can hardly brook a perplexing subordination of someone out of the cadre and particularly of one who had a covert dislike for politicians.