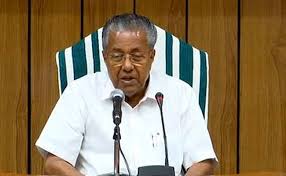 Kerala Chief Minister Pinarayi Vijayan has said the aim of the ruling Left Democratic Government (LDF) is to make Kerala a corruption free State.
The Government has totally withdrawn the ban on appointment implemented by United Democratic Front (UDF) government. The Government has provided employment to 1.20 lakh persons during the past more than three years tenure, the Chief Minister said while addressing an election rally here on Wednesday night.
The Public Sector Undertakings during the regime of UDF Government had incurred a loss of Rs 131 crore. Now the PSUs have earned a profit of Rs 258 crore during the LDF regime, Mr Vijayan said.  Earlier corruption was rampant in Kerala and now the Centre has recognised that the state is corruption-free. "Nobody can escape from corruption as the Government has taken stern measures.", he said.
International companies including Nissan were coming to Kerala to set up their business establishments. The government had paid welfare pension amounted to Rs 1800 crore which was not sanctioned by the UDF government. The growth in the public education system was tremendous. About five lakh fresh children have joined in the schools, Mr Vijayan said. He said the Pala Assembly constituency will develop more if a person from LDF win the byelection to be held on September 23. "This is a great opportunity for the people to vote for LDF candidate Mani C Kappan", Mr Vijayan said.
Tags:
10 Views