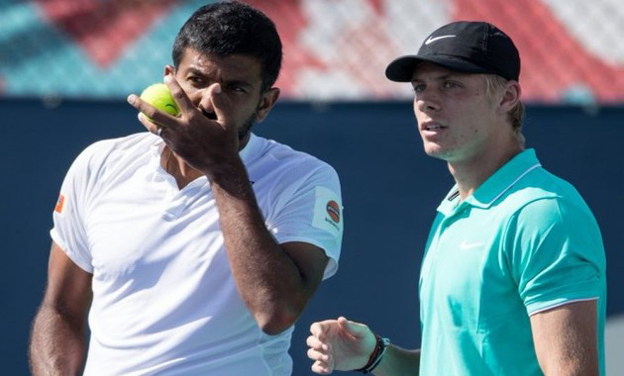 Top seeds Lukasz Kubot of Poland and Marcelo Melo of Brazil finished the challenge with Rohan Bopanna of India and Dennis Shapovalov of Canada in just 54 minutes in the doubles quarter-final of the € 2,296,490 Erste Bank Open ATP 500 in Vienna.
Second world ranked duo of Kubot/Melo defeated 24th ranked Bopanna/Shapovalov in straight sets 6-0, 6-4. Bopanna/Shapovalov were not allowed to settle down in the first set as the Kubot/Melo raced to a 6-0 win without dropping even a single game.
In the second set they exchanged breaks in the first two games. Bopanna/Shapovalov were again broken in the seventh game and Kubot/Melo went on to win the set at 6-4 and the match.
Both pairs released three aces apiece. Kubot/Melo committed four double faults in comparison to one by Bopanna/Shapovalov. Kubot/Melo saved two break points out of three and won five of seven break points. Bopanna/Shapovalov saved two break points out of seven and one break point out of three. Bopanna/Shapovalov were earlier beaten by Bubot/Melo in the round 16 at ATP Masters 1000 in Shanghai (China) October 5-13 Bopanna/Shapovalov earned €18,770 and 90 points.
Tags:
44 Views