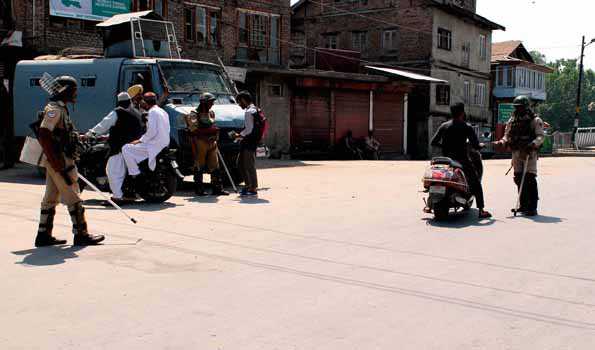 Uneasy situation prevailed in Kashmir valley, where shops, business establishments and educational institutions remained closed and internet, mobile and train services were suspended for the 55th day on Saturday.
People are protesting against the scrapping of Articles 350 and 35 A, besides division of the state into two Union Territories (UT) on August 5, though there was no strike call from any organisation.
Reports of clashes between demonstrators and security forces were received from different areas in downtown, SeK and uptown areas, during the past 24 hours. Security forces burst teargas shells and resorted to lathicharge to disperse the demonstrators, who were pelting stones and raising slogans.
Business and other activities, which were functioning for about two hours from 0700 hrs to 0900 in the city daily, remained closed for the second day on Saturday.
There were no curfew restrictions in any part of the valley, officials said. However, restrictions under Section 144 CrPC, banning assembly of four or more persons, continued as a precautionary measure in the valley, to maintain law and order, they said.
However, in some areas of downtown and SeK, besides in the civil lines, strict restrictions continued to prevent any protest for the second day on Saturday.
Strict restrictions were imposed on early Friday, when Prime Minister Narendra Modi and his Pakistan counterpart Imran Khan addressed the United Nations General Assembly (UNGA) session.
Meanwhile, gag on communication network continued in the valley, where internet and mobile services of all cellular companies, including the Bharat Sanchar Nigam Limited (BSNL), remained suspended since August 5, to prevent spread of rumours. However, landline telephone service was functioning in the valley.
Strict restrictions continued in the downtown and SeK, where all gates of historic Jamia Masjid remained closed to prevent assembly of people since August 5.
Large number of Central Paramilitary Forces (CPMF) remained deployed in the Jamia Market and outside the Masjid, to maintain law and order.
No prayers, including on Fridays, have been offered in the Masjid since August 5, due to restrictions.
Shops and other business establishments remained closed in this summer capital and its adjoining areas for the past 55 days, while public transport was off the roads on Saturday. The State Road Transport Corporation (SRTC) buses also remained off the roads.
Very less number of public transport was off the roads on Saturday, as compared to previous days. The civil lines, including historic Lal Chowk, the nerve centre of summer capital, wore a deserted look, with only security forces deployed in strength.
No civilian movement was allowed in the area by the security forces, who have closed main roads with barbed wire. However, as the day progressed, restrictions were eased.
Security forces had closed many main roads for any movement in the morning. Later, barbed wire and other restrictions were removed.
Reports received here said the restrictions were being strictly imposed at some sensitive areas in south Kashmir district of Anantnag, where shops and business establishments remained closed and traffic was off the roads.
Similar reports were also received from other main towns and tehsil headquarters, including Kulgam, Shopian, Pulwama, Pampore, Tral and Awantipora.
There was also no change in the situation in Kupwara, Baramulla, Bandipora, Pattan, Sopore, Handwara and Ajas in north Kashmir. Reports of shutdown were also received from central Kashmir districts of Ganderbal and Budgam.
Meanwhile, train service between Baramulla in south Kashmir to Banihal in Jammu region remained suspended for security reasons, since August 5.
Landline telephone service was resumed in the valley. However, mobile and internet service of all Cellular companies remained suspended since August 5, badly hitting the professional, mediapersons and students, besides traders and government departments in the valley.
241 Views