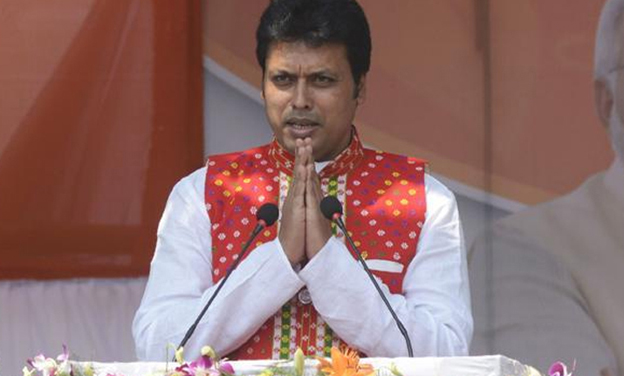 Amidst the continuous downpour of the cyclone Bulbul, 123rd edition of Maharaasyatra was inaugurated at Baralutma in the bordering subdivision of Kamalpur in the northern Tripura district of Dhalai here.
The five-day long traditional festivity of Bishnupriya Manipuri community was inaugurated by the Deputy Chief Minister Jishnu Devvarman on Friday. MP Rebati Tripura remained present as the Chief Guest. In his short speech, Mr Devvarman reiterated, "The relation of Manipuri culture and heritage is age-old with Tripura."
The Royal family of Tripura had six queens from this community and the Raas festival and Manipuri dance. It was the Manipuri dance artist Nabinchandra Sinha, who took the Manipuri dance form to Shantiniketan and then to Mumbai film arena. He was the dance director in the film "Basanta Sena" and represented Tripura outside much before S D Burman and R D Barman. Fairs are the integral part of our Indian culture and heritage. Besides fairs are the place, where diverse opinions and people mingle to open up new vistas. The tradition rooted in such celebrations enrich our generations and bridge up the relation between tradition and generations.
"The Manipuri community is performing this great task for 123 years and it is our pride". The Chief Guest Rebati Tripura just thanked the organisers.
Later, the souvenir "Bangshidhwani" was uncovered by the guests.
Tags:
22 Views