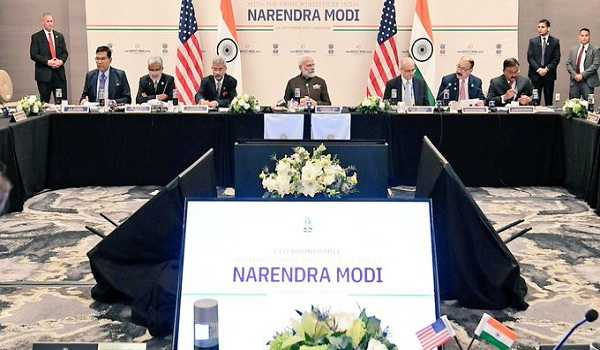 The CEOs and industry captains of companies in the energy sector on Sunday hailed Modi government's efforts towards 'ease of doing business' and steps taken to deregulate the sector.
At the Round Table meet – the first official engagement of Prime Minister Narendra Modi in the US at the week long tour – the CEOs talked about "enhancing their footprint in India".
"They lauded government efforts towards ease of doing business, steps taken towards deregulation in the sector, supported reforms and policies and were upbeat on the Indian economy," MEA spokesman Raveesh Kumar said.
He also said that the CEOs were thankful to the Government for the support and facilitation.
Mr Kumar said CEO of 17 global energy companies participated in the Roundtable. "Combined net worth of companies is USD 1 trillion with a presence in 150 countries," he said adding all companies have some engagement or presence in India.
The principal objective of the meeting was to "deepen our energy cooperation as part of our strategic energy partnership", he said.
On the sidelines, an MoU was inked between Tellurian, a Houston based energy major and Petronet LNG.
Petronet will invest USD 2.5 billion in Tellurian's proposed Driftwood LNG export terminal, in exchange for the rights to 5 million metric tonnes of LNG per year over 40 years, he said.
'It is impossible to come to Houston and not talk energy! Had a wonderful interaction with leading energy sector CEOs. We discussed methods to harness opportunities in the energy sector. Also witnessed the signing of MoU between Tellurian and Petronet LNG,' said the Prime Minister in his tweet.
MEA spokesperson earlier said in a tweet – 'Getting straight to business. PM Narendra Modi just concluded a fruitful interaction with top energy sector CEOs at a Round Table meeting in Houston.'
The discussion focused on working together for energy security and expanding mutual investment opportunities between India and the US, he wrote.
"Further energising India-USA friendship. Among the first engagements of PM Narendra Modi
in Houston is a meeting with CEOs from the energy sector. India and USA are looking to diversify cooperation in this sector," the missive in the micro blogging site by PMO said earlier.
US Ambassador to India Ken Juster was also present.  Modi was accompanied by External Affairs Minister Dr S Jaishankar, Foreign Secretary VIjay Gokhale and Indian ambassador to the US Harsh Vardhan Shringla at the meeting. (UNI)
Tags:
23 Views