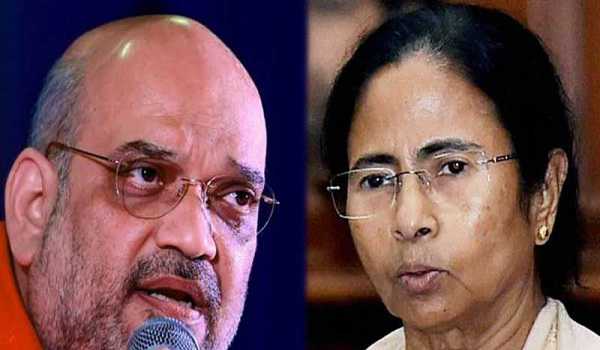 New Delhi, Sep 30 (UNI) About 12 days after Mamata Banerjee and Amit Shah had a crucial one-on-one and closed door meeting in New Delhi, BJP chief and Union Home Minister will be making one day visit to Kolkata on Tuesday to address a meeting on the much talked about National Register of Citizens (NRC).
According to a senior BJP leader, the meeting has been billed as 'A Public awakening programme on NRC' and will be held in the spacious Netaji Indoor Stadium. Among other agenda, Mr Shah will meet party MPs, MLAs and state office bearers and will also visit a Durga Puja pandal at city's posh and intellectual hub Salt Lake locality.
Mr Shah's visit also comes close on the heels of yet another high drama in Jadavpur University campus wherein Union Minister Babul Suprioyo was 'gheraoed' by left wing students and ultimately Governor Jagdeep Dhankar had to rescue him.
Mr Shah, who has always faced a hostile state administration during and prior to his visit to Mamata Banerjee-ruled state, will be visiting West Bengal in less than a fortnight time since his meeting with the state Chief Minister – who has in the past questioned him and used phrases like 'Who is Amit Shah?'
On September 19 – a day after she met Prime Minister Narendra Modi – Mamata Banerjee had said that the NRC issue did not figure in talks as it was only a matter for the state of Assam based on the agreement – the Assam Accord – signed in 1985.
But later Trinamool sources said Ms Banerjee told Home Minister that there was no logic for NRC exercise in West Bengal as is being propagated by a section of BJP leaders. The NRC issue is already like a political hot potato in the BJP-ruled Assam but the saffron party has been taking a line in states such as Haryana and West Bengal that the party favours undertaking the exercise across the country.
Mr Shah's last Bengal visit in May during the height of poll campaign saw the ugly scene of 'vandalising' of the statue of Bengal renaissance icon Ishwar Chandra Vidyasagar. The saffron party has been at the receiving end of Trinamool charge that it is an 'anti-Bengali party' and thus Mr Shah's visit coinciding with grand Durga Puja celebrations is seen as a calculative attempt to counter such campaign.
Ms Banerjee's visit to the national capital earlier this month and meeting with Prime Minister Modi and and BJP chief Shah was also linked in some quarters to the developments related to Saradha Chit fund case in which former Kolkata Police Commissioner Rajeev Kumar has come under the CBI scanner.
Trinamool detractors, including Congress leader Adhir Ranjan Chowdhury, have alleged that it was like a 'surrender' by a firebrand leader, who has been always trying to champion the cause anti-BJP politics in West Bengal and at the national level.
21 Views