By Debabrata Patra
The extent of devastation of Cyclone Titli was evident from the completely damaged house of Niranjan Behera at the heart of Parlakhemundi, the district headquarters of Gajapati.
Behera, state president of Odisha Vikalanga Manch (a collective of disabled people), said his family was yet to get any house compensation, apart from initial relief of 15 days, 50 kg rice and a polythene sheet. Being a visually challenged person himself, he was disheartened to see that persons with disabilities (PWDs) like him across the district got no special support from the state government. Neither the government, he said, seemed to show any urgency to support them.
This sums up the situation and attitude of the district administration during and after Cyclone Titli. Not only the administration was caught unprepared but also it slowed down rehabilitation process after the cyclone and showed no urgency and focus to help the most vulnerable sections of the affected population like PWDs. This shows that we need to think beyond zero casualty and focus not only on disaster preparedness but also on vulnerable sections of society and plan for them differently.
Gajapati not in disaster plan before Titli
Those of us who worked in the aftermath of the Super Cyclone in Odisha in 1999 would remember how unprepared we were for it. The lessons from it led to setting up of the Odisha State Disaster Management Authority, the first of its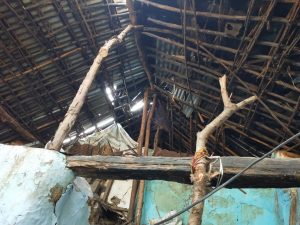 kind in the country, the same year to focus on the disaster mitigation, response and coordination, and networking within and outside the government under the aegis of the state relief commissioner's office. The Odisha Rapid Action Force (ODRAF) established in 2002 is also now well trained with 10 units in the state for immediate rescue operations.
Odisha has done the disaster preparedness plan of all the government departments. Browsing through the Internet of any government department in Odisha, one can find that every department has uploaded its disaster management and mitigation plan. However, the set-up at the district level and further down to block and gram panchayat level is still not adequate to face the emergencies.
Gajapati district is a unique case study. It was not on the humanitarian map of Odisha, which considered only 16 districts to be disaster prone. It was also traditionally not flood or cyclone prone. Only after Cyclone Titli, a district officer has been designated as district emergency officer in Gajapati.
Infrastructural inadequacy
At the time of the 1999 cyclone, 23 cyclone shelters constructed by the Indian Red Cross were highly inadequate to withstand the ferocity of wind.
Presently, the state has 203 cyclone shelter and 52 flood shelters. They have been handed over to community based cyclone shelter management and maintenance committees (CSMMCs). Odisha, with its ambitious early warning dissemination system (EWDS), can use 122 towers, which are operational across the state's 480 km long coastline, to alert the population in the event of any disaster. In addition to this, school buildings are also designed to work as community shelter.
At least 9,664 primary school buildings have been strengthened and 5,683 new buildings constructed to serve this purpose. But again these shelters are largely limited to 16 disaster prone districts mentioned earlier.
The state has commendably managed to reduce the human casualties from 9,885 in the Super cyclone to 45 in Cyclone Phailin and subsequent floods in 2013. However, Cyclone Titli left 77 people dead although state government aimed at zero casualties. Various media houses reported that state government in haste even claimed that they ensured zero casualties just after the cyclone.
We need to do more
Do we need to do more? The answer is an emphatic yes. As newer districts are falling prey to cyclones, floods, droughts and heat waves due to climate change, the state and its people need to get prepared. Also, specific plans have to be chalked out to effectively address the need of different vulnerable sections of society.
There should be more focus on disaster preparedness and building community leadership, especially that of women and persons with disabilities so that they are better prepared to face the disasters. All the agencies – government and non-government – should work on this on a priority basis and complete the task. Some of the agencies like ActionAid have already done disaster preparedness plans led by women, which can be taken up as a model plan.
Quick rescue phase has to be followed by equally quick rehabilitation through a single window fast track system. In Gajapati, people are yet to get their dues of house damage, crop loss and so on. The livelihoods are yet to be revived. What people did get initially were just the polythene sheet, 50 kg rice and Rs 1,000 and additional 15 days relief.
At present, there is absolutely no focus on persons with disability, women, uncared aged people, children and other vulnerable sections of society. As a result, these sections suffer a lot. The Rights of Persons with Disabilities Act, 2016 in Section 8 (1 to 4) mandates that the state should ensure protection and safety of persons with disabilities in the aftermath of any emergencies.
We met one of the children orphaned by Cyclone Titli who said he had no idea regarding the compensation for death. Many children seemed like they were in need of psycho-social counselling to get over their grief. Many of them were uprooted from their villages and put in a childcare institute in Parlakhenundi.
Such children should be in the community and the state should try for community based rehabilitation instead of uprooting them from their village. A community based rehabilitation had been successfully tried by Sneha Abhiyaan, which was supported the state government and ActionAid, post Super Cyclone in 1999.
Transparency and accountability should be maintained in all expenditure related to relief and rehabilitation. As in any disaster, both to government and non government agencies receive a lot of money for relief and rehabilitation works. It is important to ensure the correct utilisation of the money and its transparent expenditure. Affected people should know the quantity/ quality of relief items they are to receive and the price for each commodity.
Periodic social audits and citizen's report by independent agencies can be of great help in this regard. Lastly, a new paradigm for a sustainable development model is essential in Odisha keeping in view local ecology, social vulnerability and disaster preparedness.
(Patra heads the regional office of ActionAid in Odisha. Views are personal)