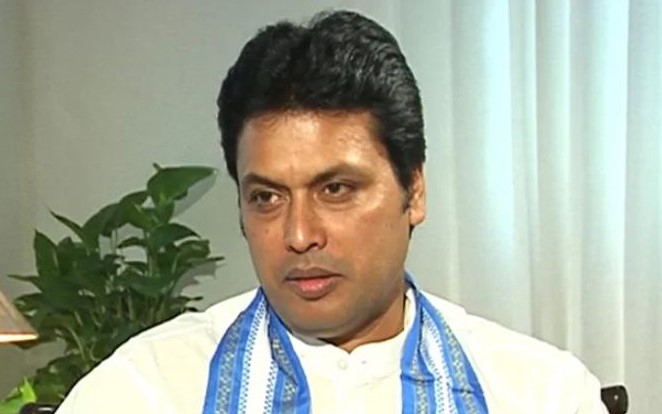 Agartala, Sep 12 (UNI) In a bid to bring a large number of genuine poor people, left out in 2011 socio-economic census, Tripura government has decided to launch a new scheme in the lines of Ayushman Bharat to provide them free healthcare service, said Chief Minister Biplab Kumar Deb.
Deb, who also holds the health portfolio, told media here that the state government has been working on effective extension of facilities to the patients, especially to those from the poor economic background and mooted an idea to launch separate Ayushman Tripura scheme on its own amid controversy over hike of fees for services in government hospitals.
Slamming the opposition, the chief minister said, "We are facing serious problem in rectifying the loopholes of previous left front government. The quality of service had gone to the lowest level but steps have been taken by us for bringing transparency in the system. But our attempts to set things in array has been disappointing for a section of people who are trying to mislead the people."
He stated that the government would publish a White Paper on health department ? ostensibly to bring to fore, what it felt misdeeds and failures of the previous Left Front government for the people of the state. The government has recently revised the existing fees of services which had been present ambiguously for a long time, but the opposition is deliberately terming it 'new fees', he added.
"In Tripura as many as 20.57 lakh people are supposed to get health insurance coverage up to Rs 5 lakh under Ayushman Bharat but only 4.69 lakhs people are availing the service so far. If the entire eligible population is brought into the scheme, the allocation for the state would be increased at least five times more than now, which would be used for improvement of healthcare service and infrastructure," Deb pointed out.
He added apart from the eligible population, about 84,000 poor families were not included in the Socio-Economic Caste Census 2011, just because of political reasons. Now, the state government is in the process of introducing a new scheme Ayushman Tripura at Rs 9 Cr, so that 84,000 poor families (3.57 lakhs people) left out can get up to Rs 5 lakh under the central government scheme.
Tags:
21 Views