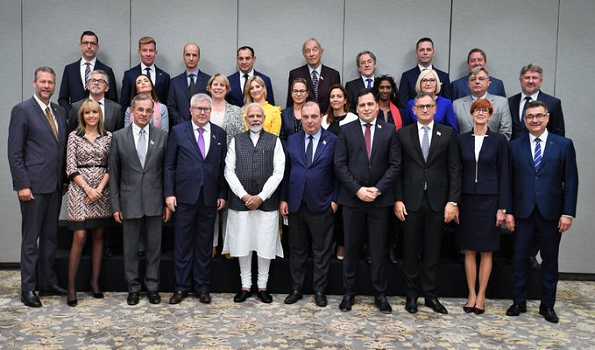 New Delhi, Oct 28 (UNI) Having told the US and other global players including China that that the government's move in Jammu and Kashmir was strictly an internal matter of India, Prime Minister Narendra Modi on Monday decided to give an extra ordinary push to its Kashmir policy by reaching out to visiting European lawmakers delegation by inviting them to visit the state.
Some countries have in the last three months raised concerns regarding the 'detention' of local residents and political leaders and also snapping of internet connections in Jammu and Kashmir. However, from the very top level, the Modi government gave a nod for first major visit by a foreign delegation to Jammu and Kashmir after August 5 when the special status for the state was abrogated and militancy-hit J&K was bifurcated.
A statement from Prime Minister's Office said on Monday that Mr Modi while welcoming the European delegation to India expressed the hope that they will have a "fruitful visit to various parts of the country, including to Jammu and Kashmir". "Yes we are going there tomorrow. The Prime Minister explained to us about it (abrogation of Article 370) but I want to see on the ground how it actually is and talk to some local people," BN Dunn, a member of the visiting delegation, later told reporters.
The visiting team also met National Security Advisor Ajit Doval. BJP MP Dr Subramanian Swamy opposed the delegation's visit saying allowing their tour would be "a perversion of our national policy". PDP chief and former Jammu and Kashmir Chief Minister Mehbooba Mufti, who is also detained, in a tweet said that the visiting lawmakers from European countries should "get chance" to talk to the local people.
"Hope they get a chance to speak to the people, local media, doctors and civil society members," Ms Mehbooba tweeted. She also said, "The iron curtain between Kashmir and the world needs to be lifted and the Government of India must be held accountable for pushing J&K into turmoil". The government sources have maintained normalcy in the valley but there have been sporadic incidents of violence with 'non-Kashmiri' truckers having been targeted in some pockets.
During his visit to the US in August, External Affairs Minister Dr S Jaishankar articulated well the government's stance, "For many years India sought a solution while Pakistan was comfortable with continuing cross-border terrorism. The choice (when Modi government) came back to power was clear. Either we had more of past policies and the prospect of further radicalization or we had a decisive change in the landscape and a change of direction towards de-radicalization".
19 Views