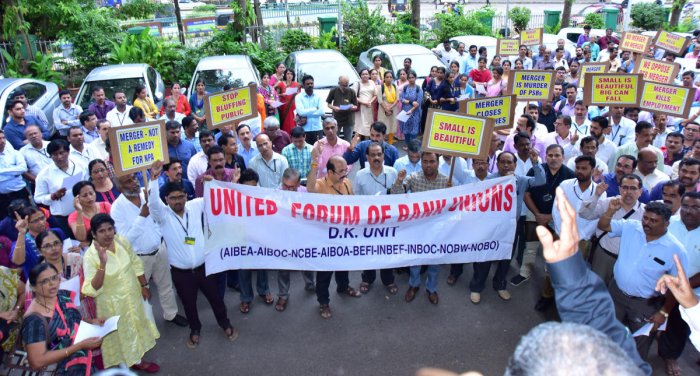 Four Bank Officers' Associations AIBOC, AIBOA, INBOC and NOBO have threatened to launch agitation against the proposed merger of public sector banks and demanded expeditious wage revision without any pre-condition.
In a release in Agartala today said, the bank officers' bodies will launch protest demonstrations, agitation followed by submission of memorandum to various authorities across the country, which would culminate into two days' all India strike from midnight of September 25 to 27 followed by an indefinite strike from second week of November.
The associations have also urged settlement of issues pertaining to banking industry like introduction of five- day week, reduction of cash transaction hours and regulated working hours; against undue interference in existing procedure of vigilance cases by outside agencies under amended provisions of Prevention of Corruption Act, 2018; improvement in pension for retirees as per RBI formula and family pension, medical insurance to retirees at par with the serving employees; adequate recruitment; scrapping of NPS; and stopping of harassment of officers under specious plea.
It also said, proposed consolidation of banks announced by Finance Minister is neither in the interest of the country, nor banks / their customers and added, "The justification for mergers adduced by the Finance Minister is misplaced. Merger of the Associate Banks with SBI did not bring any such positive result. More than 2000 Branches were closed.
The decision of merger will act as a major impediment to the objective of Government of achieving five trillion US dollar economy as very functioning of public sector banks will be impeded, the association release said adding that the notion of merger two or more banks can create a larger, more viable and profitable bank and somehow magically increase shareholder value is a prejudiced idea. (UNI)
31 Views